Bedarra Island Luxury Resort, Queensland
Luxury 4.5* Hotel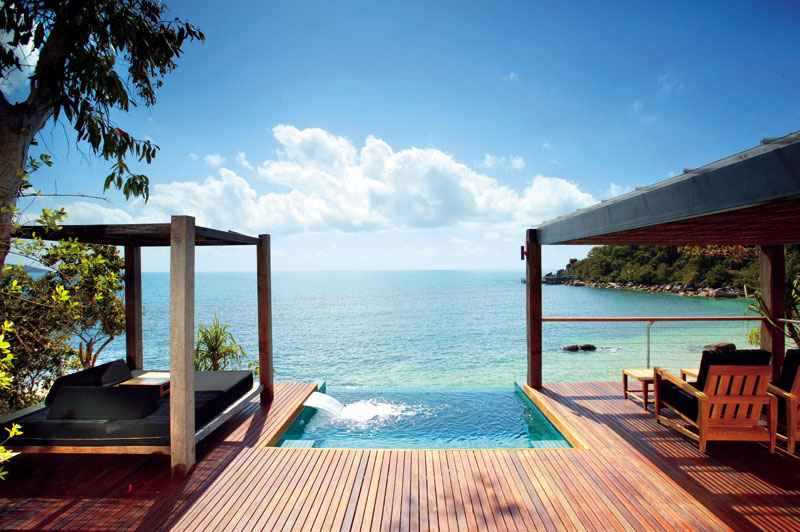 Privately owned Bedarra Island is in the heart of the Family Islands National Park, off the Queensland coast in Australia. The granite island was part of the mainland before the last sea level rise began 8,000 years ago.
Bedarra Island enjoys daytime temperatures ranging from 23 degrees Celsius in the winter months of June and July to 30 degrees Celsius in the height of summer between December and January. High rainfall from December to March can be expected due to the tropical nature of the island.
Located in tropical North Queensland, right off the coast of Cairns, Bedarra Island is short boat ride away from Dunk Island (or seaplane if you prefer!).
Covering 100 hectares of tropical rainforest, Bedarra Island is part of the Great Barrier Reef Marine Park and the Family Group of Islands; located approximately 10 kilometres offshore from the coastal village of Mission Beach, midway between Townsville and Cairns.
Getting There: A daily 30 minute launch service operates between Mission Beach and Bedarra. Mission Beach is a 2 hour drive south of Cairns.
Bedarra offers only seven guest villas, each hidden amongst the rainforest and enjoying spectacular ocean views
The Pavilions:The two pavilions are set in exclusive, private locations with stunning views over Wedgerock Bay. An open-plan layout is designed to take advantage of the spectacular views and create an inviting indoor/outdoor ambience. The sleeping pavilion features a custom-designed floating bed with a separate oversized bathroom with shower and deep bath. The living pavilion and bar offers contemporary built-in lounges, LED TV, Ipod and espresso machine. A work desk and tablet are located in the villa. The large outdoor area and deck incorporate a private plunge pool, a daybed and an alfresco dining setting.
Getting There
Regular flights are available from all major Australian capital cities to Cairns. The scenic twice daily flight (3 times daily in peak season) from Cairns to Dunk Island takes 40 minutes. This is followed by a 15 minute launch service to Bedarra. The launch meets all flights into Dunk Island. Water transfers can be arranged from the mainland township of Mission Beach. Heli transfers can be arranged to the resort or private aircraft charter from Cairns to Dunk Island.
Spa
The resort's spa therapist provides massage and healing therapies and the Spa of Peace and Plenty at nearby Dunk Island provides comprehensive pampering spa treatments from facials to body wraps and massage.
Golf
Guests can take the 15 minute launch trip to Dunk Island for their challenging and scenic 18-hole resort course - the largest island golf course in Australia. The course layout and design was created by Scott Dowdle, who operates and maintains Queensland's leading international championship course, Laguna Quays. Due to limited luggage space on aircraft, Dunk Island carries a good range of golf clubs for hire.
Children
Bedarra Island does not offer facilities for children and those under 16 years are not catered for.
Honeymoon
Honeymoon packages are available on request.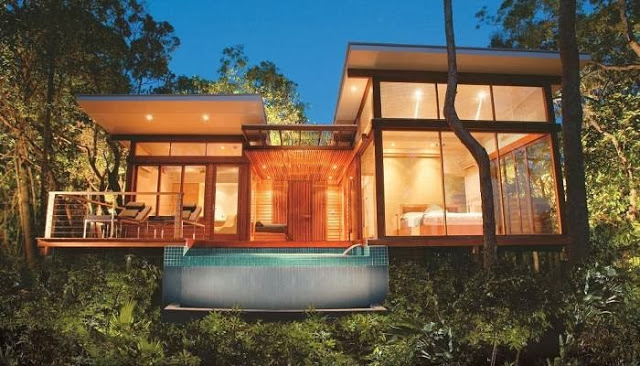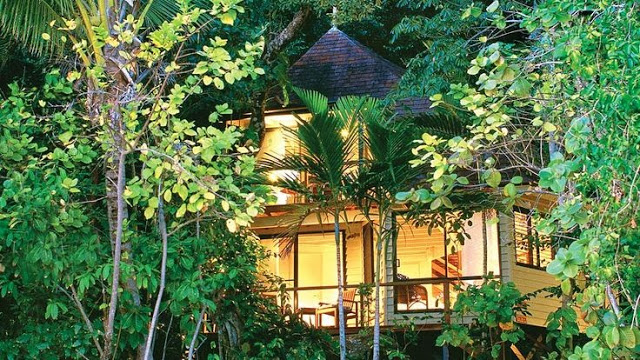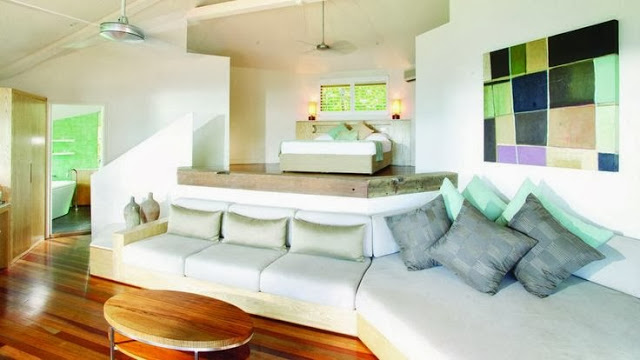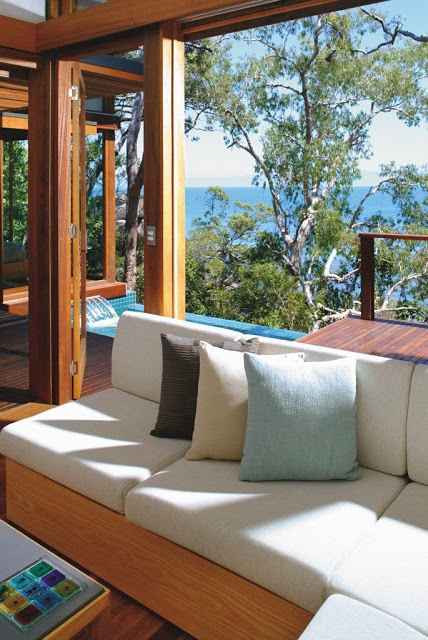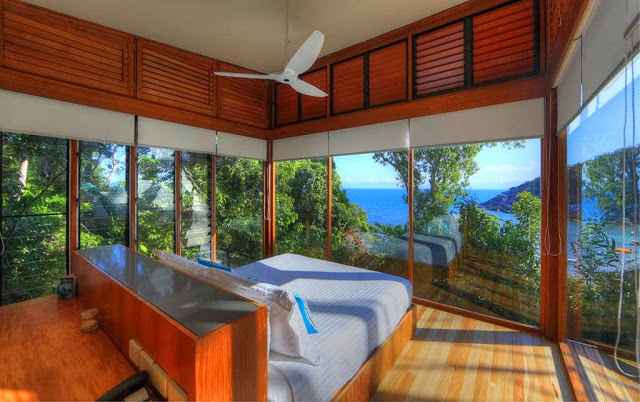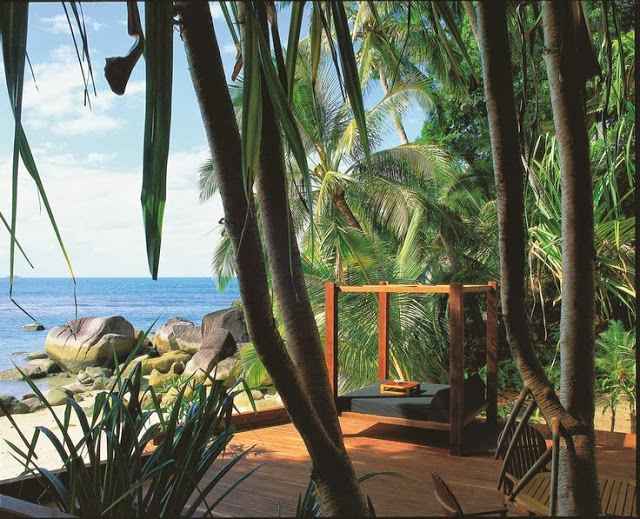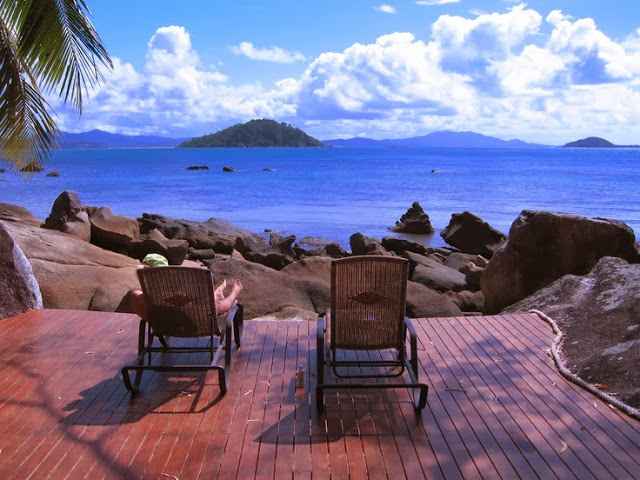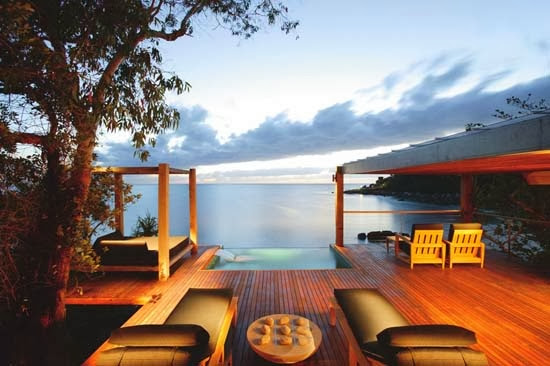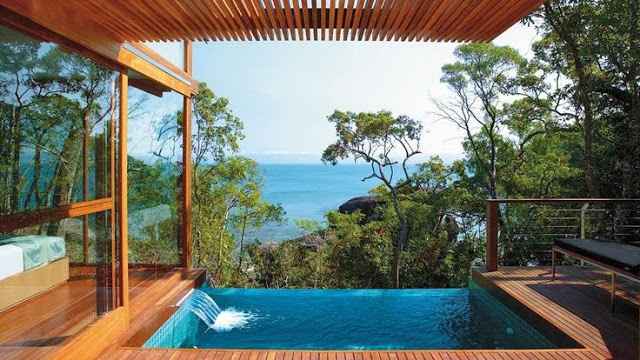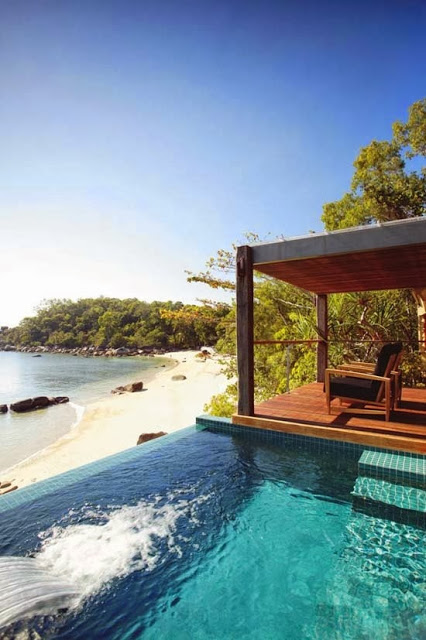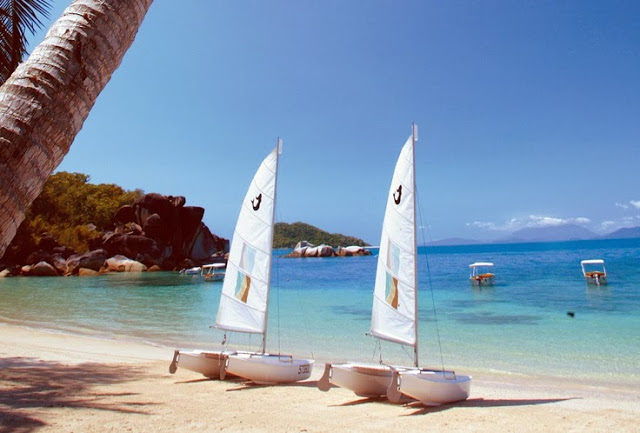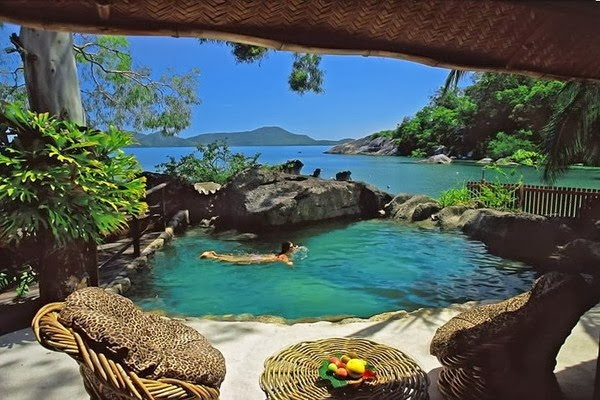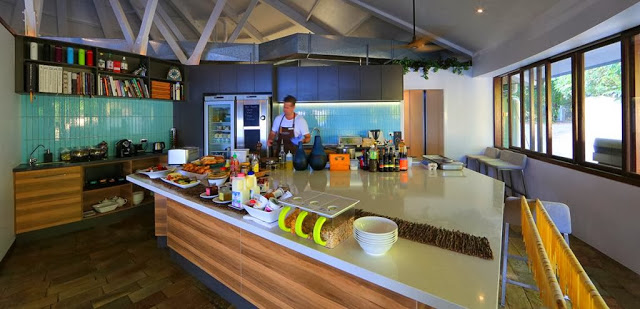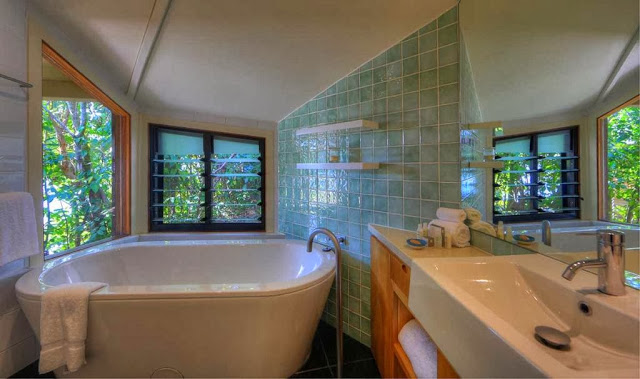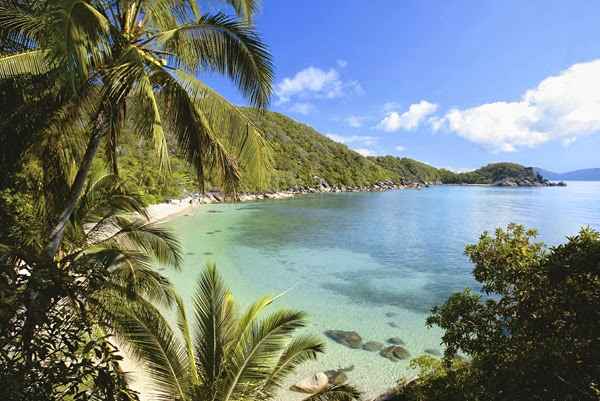 Dining
The Restaurant where the tariff includes all meals and 24 hour open bar provides simply exquisite food, a standard guests demand. There is a team of chefs and a different Bedarra menu every day using the finest and freshest of ingredients. The superb seafood is always fresh, as if you'd caught it yourself. Gourmet picnic hampers for beachside outings are available on request and special dietary needs are catered for with advance notice. The resort's relaxed lounge features the well known self-service open bar which is comprehensively stocked with Australia's finest selection of wine, spirits and imported beers, along with champagnes, spirits and liqueurs.
Activities
Guests can take a reef trip or go sailing and discover the hidden surprises of the island. Other activities include snorkelling, sailboarding, fishing, gamefishing, reef trips, sailing charters, scuba dives, tennis or relaxing by the beach or saltwater pool. Nearby Dunk Island has a variety of activities available to Bedarra guests, including 18 hole golf course, water skiing, parasailing, skydiving, horse riding, extensive rainforest walks.
Services / Facilities:

Please be aware that our Villas are not air-conditioned however we have made a number of architectural modifications to our villas to improve cross flow ventilation including under-floor vents, multiple louvered windows and high efficiency ceiling fans. The result are villas that are naturally cooled and ventilated by the prevailing sea breezes rather than artificial air conditioning.

24 hr open bar

Boutique

Internet facilities

Gymnasium

Day Spa at Dunk Island

18 hole golf at Dunk Island

Book-game-CD library

Lounge/library

Daily laundry service

Massage room

Shop

Swimming pool

Tennis courts

Postal service

Tour desk

Video hire

Water sports & gear

Prices: between $1,002 - $1,607/per villa per night

Oceanview Villa - $990 per villa per night

Oceanview Terrace Villa - $1,090 per villa per night

Villa North-East - $1,390 per villa night

The Pavilions - $1,490 per villa per night

The Point - $1,490 per villa per night

The rates include accommodation, all meals and snacks, selected alcoholic beverages, all non-alcoholic beverages and all activities.

The only additional cost is for our return launch transfer which is $295 per couple and departs from Mission Beach daily.

All villas accommodate a maximum of 2 guests per villa.

Additional charges apply for our Cellarmaster wines and beverages and chartered reef or fishing trips.

Hotel Rooms: 15 rooms / Villas Room Amenities:

Air-conditioning

Aromatherapy oil burner

Bath & bath oils

Hair dryer

Bathrobes

Beach towels

CD player

Ceiling fan

Complimentary minibar

Direct dial STD/ISD telephone

Evening turndown service

Iron & Ironing Board

King bed

Private balcony

TV, VCR, Satellite TV channels

Tea & coffee facilities

Work Desk

Check in - 2 PM, Check out - 11 AM

Hotel Information:

Bedarra Island Luxury Resort, Queensland, Luxury 4.5* Hotel

Mission Beach ? QLD 4852, Australia

Phone: +61 7 4068 8233

Find them on facebook: https://www.facebook.com/bedarraislandresort